Olive Oil Giveaway Campaign!
To show our love and appreciation for your constant support of PfP, we are doing a $500 VISA gift card appreciation giveaway! We have extended the deadline from October 1st to November first!
---
To enter in the giveaway:
Purchase at least three 500 mL bottles of our AIDA Palestinian Olive Oil, Turath Blend, before November 1. You can purchase here!
Tag 2 friends in the comments of our giveaway post.
---
A winner will be announced on November 5!
---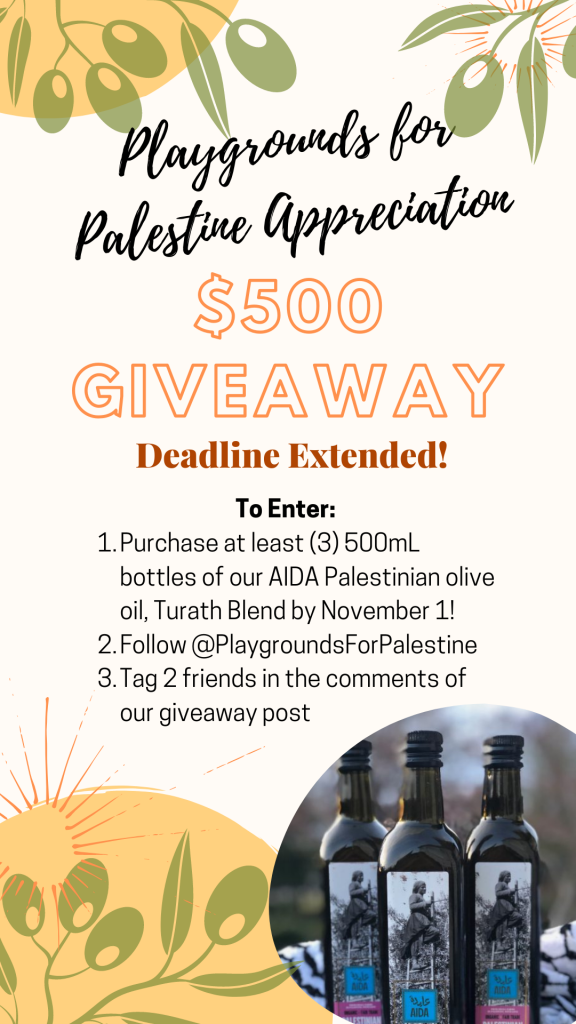 ---
𝙏𝙪𝙧𝙖𝙩𝙝 𝙗𝙡𝙚𝙣𝙙 𝙞𝙨 𝙖𝙣 𝙚𝙭𝙩𝙧𝙖 𝙫𝙞𝙧𝙜𝙞𝙣, 𝙤𝙧𝙜𝙖𝙣𝙞𝙘, 𝙁𝙖𝙞𝙧 𝙏𝙧𝙖𝙙𝙚 𝙤𝙡𝙞𝙫𝙚 𝙤𝙞𝙡 𝙢𝙖𝙙𝙚 𝙛𝙧𝙤𝙢 𝙉𝙖𝙗𝙖𝙡𝙞 𝙤𝙡𝙞𝙫𝙚𝙨, 𝙖𝙣 𝙞𝙣𝙙𝙞𝙜𝙚𝙣𝙤𝙪𝙨 𝙋𝙖𝙡𝙚𝙨𝙩𝙞𝙣𝙞𝙖𝙣𝙫𝙖𝙧𝙞𝙚𝙩𝙮 𝙬𝙞𝙩𝙝 𝙨𝙡𝙞𝙜𝙝𝙩𝙡𝙮 𝙛𝙧𝙪𝙞𝙩𝙮 𝙤𝙫𝙚𝙧𝙩𝙤𝙣𝙚𝙨 𝙖𝙣𝙙 𝙖 𝙨𝙡𝙞𝙜𝙝𝙩 𝙥𝙚𝙥𝙥𝙚𝙧𝙮 𝙛𝙞𝙣𝙞𝙨𝙝. 𝙊𝙪𝙧 𝙤𝙞𝙡𝙨 𝙖𝙧𝙚 𝙤𝙧𝙜𝙖𝙣𝙞𝙘𝙖𝙡𝙡𝙮 𝙜𝙧𝙤𝙬𝙣 𝙖𝙣𝙙 𝙝𝙖𝙧𝙫𝙚𝙨𝙩𝙚𝙙𝙗𝙮 𝙝𝙖𝙣𝙙 𝙛𝙧𝙤𝙢 𝙛𝙖𝙢𝙞𝙡𝙮 𝙛𝙖𝙧𝙢𝙨 𝙤𝙣 𝙩𝙝𝙚 𝙝𝙞𝙡𝙡𝙨 𝙤𝙛 𝙋𝙖𝙡𝙚𝙨𝙩𝙞𝙣𝙚. [𝘼𝙄𝘿𝘼 𝙞𝙨 𝙖 𝙥𝙧𝙞𝙫𝙖𝙩𝙚 𝙡𝙖𝙗𝙚𝙡 𝙚𝙭𝙘𝙡𝙪𝙨𝙞𝙫𝙚 𝙤𝙣𝙡𝙮 𝙩𝙤 𝙋𝙡𝙖𝙮𝙜𝙧𝙤𝙪𝙣𝙙𝙨 𝙛𝙤𝙧𝙋𝙖𝙡𝙚𝙨𝙩𝙞𝙣𝙚. 100% 𝙤𝙛 𝙥𝙧𝙤𝙘𝙚𝙚𝙙𝙨 𝙜𝙤 𝙩𝙤 𝙛𝙪𝙣𝙙 𝙤𝙪𝙧 𝙥𝙧𝙤𝙟𝙚𝙘𝙩𝙨 𝙗𝙪𝙞𝙡𝙙𝙞𝙣𝙜 𝙥𝙡𝙖𝙮𝙜𝙧𝙤𝙪𝙣𝙙𝙨 𝙛𝙤𝙧 𝙘𝙝𝙞𝙡𝙙𝙧𝙚𝙣 𝙞𝙣 𝙋𝙖𝙡𝙚𝙨𝙩𝙞𝙣𝙚 𝙖𝙣𝙙𝙨𝙪𝙧𝙧𝙤𝙪𝙣𝙙𝙞𝙣𝙜 𝙧𝙚𝙛𝙪𝙜𝙚𝙚 𝙘𝙖𝙢𝙥𝙨].