ANERA Honors PfP's Work in Palestine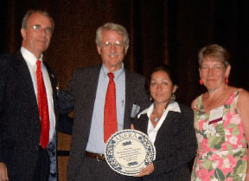 On September 17th, 2005, ANERA honored Playgrounds for Palestine and the multitude of loyal ANERA donors who consistently support our work. The awards were presented at ANERA's Annual Dinner. The theme for this year's dinner was "Education Creates the Future."
Guest speaker at the dinner was Moa'taz Dajani, Executive Director for Al-Jana/Arab Resource Center for the Popular Arts in Beirut, Lebanon. Al-Jana is a dynamic arts education organization that promotes reading and self-expression in impoverished Palestinian communities throughout Lebanon.
While PfP appreciates this recognition, we also wish to thank ANERA for their continued partnership and support which makes it possible for PfP to complete its mission.
Presenting the award for ANERA (from left to right in the photo) were Chairman, Les Janka and President Peter Gubser. Accepting for PfP were Founder, Susan Abulhawa and Board Members, Betsey Piette.